Features:

Gift Cards
Amigo Pos includes the ability to process gift cards locally for businesses with a single location. In addition, Amigo Pos supports gift card processing with Mercury, Verifone Point, Datacap GIFTePay, OpenEdge EdgeLink (coming in Septemeber/October 2015) and the Amigo Pos Gift Card Cloud Service (currently in beta testing) for businesses with multiple locations. The process of selling and redeeming gift cards is identical regardless of the method. The images below are from transactions processed with Datacap GIFTePay.
---
| | |
| --- | --- |
| | Click here to view the gift cards help topic |
---

The following gift card transaction types are available:
Gift Card Activation
Press the ACTIVATE button at the top left to sell a new gift card. Swipe the card across the magnetic card reader or enter the card number manually. Enter the gift card amount using the on-screen number pad and press the CONTINUE button to activate the gift card.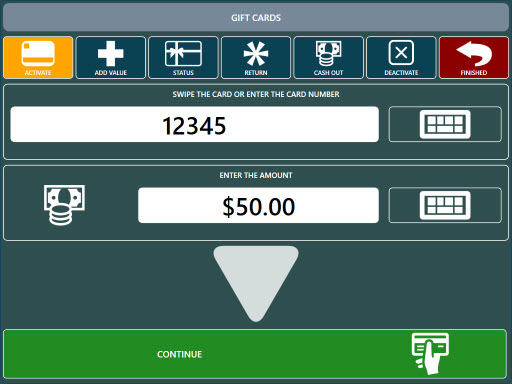 Activating a new gift card
The results screen is displayed within a few seconds. A green background indicates a successful gift card activation and the transaction can be settled by pressing the yellow SETTLE button.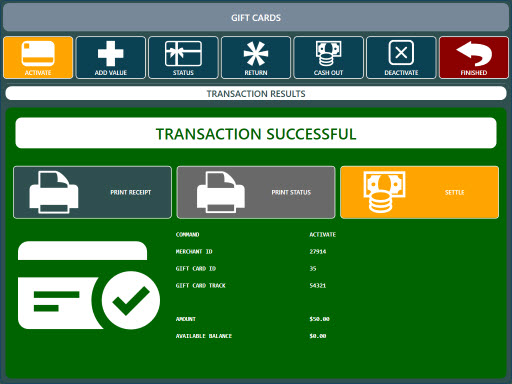 Successful Gift Card Activation
A red background on the results screen indicates an error. In the image below, the gift card was previously activated.
Gift Card Activation Error
Add Value
Press the ADD VALUE button add value to a gift card. Enter the amount to add and press the PROCESS button. Note that a new order is started whenever value is added to a gift card.
Gift Card Add Value
Status
Press the STATUS button to view a gift card's complete transaction history. The data is sent to the local receipt printer.
Gift Card Status
Return
Press the RETURN button at the top to process a return (refund) using a prepaid card. PrePaid returns increase the available balance (value) of the account (card).
Gift Card Return
Cash Out
Press the CASH OUT button at the top to process a cash refund of the remaining balance on a prepaid card. A cash out reduces the available balance (value) of the account (card) to zero.
Gift Card Cash Out
Deactivate
Press the DEACTIVATE the gift card tp permanently void the gift card and set the available balance to zero.
Deactivating a Gift Card
Order Settlement
Select the order from the recall list and select the gift card payment method to settle the order using a previously activated gift card
Order Settlement